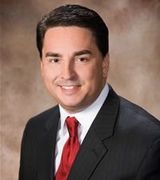 Eddie Serralles and the Serralles Group Inc.
Strategically located at 2322 N. Highland Avenue in Tampa Heights, The Serralles Group Inc, for over 20 years have been providing Real Estate, Mortgage and Construction services to all of Tampa Heights and Ybor City.  Eddie is a native Floridian raised in Tampa where his family and ancestors have resided since the early 1900's.  Like both of his grandparents who started businesses in the early days of Ybor City, Eddie is a born entrepreneur.
His newest venture is The Serralles Training Group Inc., where he educates and builds investors one person and one property at a time to help make Tampa the next great city.  Serralles believes that successful investors are motivated, hardworking, talented, wise and patient.   Eddie believes that a successful investor is someone who knows how to accomplish something that most people cannot, and are problem solvers.  Eddie Serralles and The Serralles Group Inc., have created a healthy environment for all to learn and grow.